Isn't it amazing how many people are become purplecoos, is it something to do with the water or could it be some sort of computer virus?
Photo uploading: my camera um, had a what you could possibly call a slight accident last night so l borrowed Harry's, which incidentally has more pixels than mine, anyway, l couldn't upload straight from file but with his help & by uploading the pictures to the website photobucket all should be hunky dory, so to speak...hopefully, the pics are still up loading HARRY!!
l have taken several pictures of the beach, l has meant to do this yesterday evening but the light was very grey & made the place look cold. Well, l was prompted by the dirty beach article on the Today programme? As you can see the rubbish is in a 2m2 area & is mostly fishermens trash, ropes, crab pot markers, line [no hooks], a bit further down it was plastics. The beach here runs down from Bridlington in the north down to Spurn Point which sticks out into the mouth of the Humber, l would imagine that this sort of detritus is common all down the coast.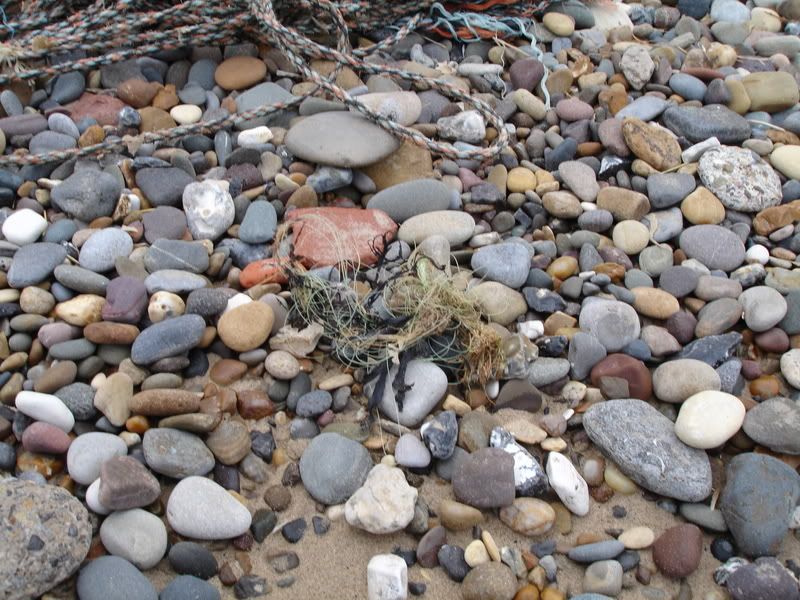 Oh, that's Gordon
snuffling in the background.
As you can see, the upload via photobucket has worked, thank you Harry!
The caravan rally people have all gone now which gave Hubby the chance to play on his big boys toy, industrial lawn mower, [no jokes], its rather large, opps, you know the ones that the council use? Anyway, bless him, he has got all caravan site, road side & footpath grasses cut AND he has picked up the rubbish that just seems to escape from peoples cars neatly ties up in plastic bags or abstractly hurled with gay abandon at the hedgerows.
I have noticed that there are a few waitresses out there, l tell you what, l could have done with some help today, god it's been bloody mad. We were 3 men down because harry & Jess were at the driving competition with Young farmers, & they didn't win or should l say the club didn't, plus another was away then another youngster was suffering from a broken heart, l did offer her a band aid but she just slunked off quietly to die alone & unloved....until next week. So by 5pm we were worn right down to our knees which certainly made the last stragglers do a double take.
Thank you boy - l have just been handed by son his assessment booklet thingy and as his employer l'm supposed to fill it in , hmmm, ok,ok sorry folks l'll have to stop & catch up with you all later. Bye for now!
PS: Spell checks - if you click on ABC on the tool bar, incorrect spelling are highlighted in yellow, if you left click on the word a drop down appears offering a choice of correct spellings. You need to click on the green text 'done spelling check' once you've finished.